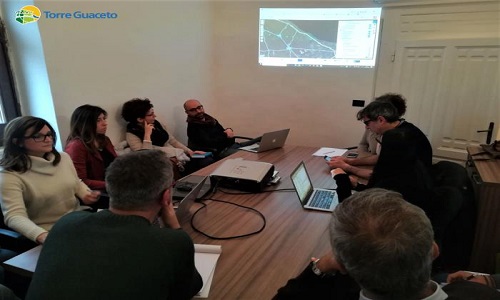 The Management Consortium of Torre Guaceto is a partner of the START project, an SISTema of rAPpid mapping and territorial and marine land control, aimed at creating tools for the protection of the Apulian coast, the assessment of coastal erosion phenomena and the development of services for maintenance, and security and management of ports, both commercial and tourist. A plan of fundamental importance for the enhancement of the management of the Marine Protected Area, conceived and realized by a varied and specialized team composed of partners: "Links Management and Technology Spa", Euro-Mediterranean Center on Climate Change (CMCC), "Environmental Surveys Srl "(Ensu), Etacons Srl, and the Department of Innovation Engineering at the University of Salento.
For the success of the works, the Consortium of Torre Guaceto participated in the technical tables that concerned the analysis of the scenarios that are revealed in the protected area and the specific management needs that, if satisfied, will allow a stronger protection of the Reserve.
At the conclusion of all the studies, the managing body will be user and end user of the produced results that will consist in the creation of a decision support system in the design of coast protection interventions (DSS – Decision Support System).
 Funded by the Puglia Region and by partners, the project started in November 2015 will be completed in March 2018, in the coming weeks the scholars and researchers who participated in START will present the results obtained, thus allowing the Consortium to improve its management performance .
In the few weeks that are missing to achieve the objectives that the team had set itself at the beginning of the work, we are proceeding with a final experimentation of the project in which the Consortium of Torre Guaceto is also involved.
Article courtesy of Puglia TV Canale 116
www.pugliatvcanale116.com