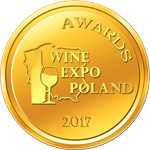 Two gold medals for the wines of Cantina Coppola 1489 at the Wine expo Poland
Two wines, two gold medals, two consecutive podium editions. Cantina Coppola 1489 doubles in Poland and also in the 2017 edition writes its name among the winners of the international wine competition Wine Expo Poland.
It is the Alezio Doc negroamaro to triumph, in two of its most popular declinations.
After that of November 2016, the Doxi Riserva Alezio Doc wins a new gold medal this time with the 2013 harvest. The jury also includes the Red Li Cuti Alezio Doc negroamaro harvest 2015. Both wines, we remember, are fresh medals to the Competition The selection of the Mayor 2017 last June. A good confirmation and a seal of guarantee on the work done in the vineyard and in the cellar.
"We are proud of these awards – comments Giuseppe Coppola – who certainly reward the work we do daily with the oenologist Giuseppe Pizzolante Leuzzi, the agronomist Gabriella Puzzovio and collaborators. All the more pleasing because they reach the end of a year that marks an important turning point for our company and because they reinforce the value of the awards already received recently with the same wines. The excellent results obtained in the international competitions consolidate the position of the winery as a privileged destination for enotourists on holiday in Salento, an objective in which the company has always been committed ".
The competition is linked to the homonymous Wine Expo Poland fair that took place in Warsaw on October 27th and 28th, during which the exam jury, composed of journalists and sommeliers from all over the world, tasted hundreds of labels. The event is one of the most important in the sector in Poland and among the most important in Eastern Europe.
The Doxi Riserva Alezio Doc negroamaro is the most "old" label of Cantina Coppola. An opulent wine of great character, a blend of 80% negroamaro and 20% malvasia aged three years in large oak barrels.
The Rosso Li Cuti Alezio Doc is a negroamaro100%. A relatively young wine refined only in steel. Ruby red color, hints of blackberry and wood and a strong tannin.
Both derive from grapes grown in estates that, overlooking the Gulf of Gallipoli a few steps from the sea, are influenced by the beneficial effects of the Ionian.